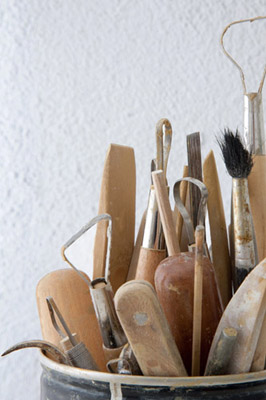 feuer zeug keramik is the place to go and visit if you are looking for pottery workshops, a unique and individual present, or anything in the wide field of ceramics in Berlin! Located right in the heart of the city, our shop is based in the thriving Kreuzberg 36 kiez.
Ceramics classes
We offer throwing classes on the potters wheel.
5 participants max.
4 sessions of 2 hours each, i.e. 4x Mondays, 4x Tuesdays etc. (first three sessions on the potter's wheel, then glazing session)
Evening classes: Tue/Wed 5-7pm, or morning classes: Wed 10-12am, Sat 11-1pm.
Class fee: 210€, for students 190€ (material and firing costs included)
Classes held at workshop at Lenaustraße 23, 12047 Berlin -- not at the shop!
Attention: Throwing is not as easy as it may seem. In our hobby classes, you will get to know the material and the basics of the craft -- they do not replace a professional education!
Presents and commissions
If you don't want to get into the clay just yet, please visit us anytime to find the perfect present -- or even something for yourself, of course! There's always a selection of hand-made bowls, mugs, vases, teapots, and much more.
Firing service
We can fire your self-made pottery. It gets charged by the weight.